The Complete Travel Health Solution
Why Offer Pharmacy-based Travel Health Services?
Each international traveler is worth an average of $400 to a pharmacy. Purchases include travel consultations, routine and travel specific vaccines, Rx, OTC meds and other related in-store purchases. Travel medicine is a valuable health and wellness service for your customers and develops and strengthens the business relationship between you and your customer. Keeping your customers healthy while traveling by providing the necessary information and services can both retain your existing customers and also brings in new customers at the same time.
Easy to Use and FAST!
With a simple login and password you can generate expert travel advice for over 230 destinations worldwide in seconds.   Reports can be emailed, printed and viewed on a mobile device.
What's included in the Travel Medicine Platform?
1. World Travel Reporting Software
TravelCare's decision support software allows users to login from any web browser and generate worldwide travel health and safety reports on demand for any country in the world. Our reports include comprehensive medical recommendations as well as real-time health and safety alerts for over 230 destinations. We offer single and multi-country customizable reports along with a full suite of resources for vaccines, diseases, prevention, world maps and more. Research that would take hours without TravelCare can be accomplished in just a few seconds.
2. Customer Acquisition Tools
While our clients provide excellent travel medicine services to their customers there is an ongoing need to generate new customers. We've recently added tools to help our pharmacy clients generate new customers while tracking and marketing to their current customers. Tools like the "Free Travel Reports" turn visitors into customers by requiring a registration in exchange for a valuable report. This allows the local pharmacy to generate new customers based on the customer's proximity to their store.
3. Tracking and Reporting
TravelCare's "My Travelers" report allows users to add travelers so they can follow their customers' trips and send appointment reminders. The reporting system tracks the number and generator of each report by location. TravelCare allows for control and scalability.
Expert Travel Health Services Software for the Pharmacist
The Fastest Growing Field in Pharmacy - International travel is large and growing.  80 million people per year travel internationally and nearly 50% get sick from a preventable illness - yet a tiny fraction of travelers get proper medical advice.   The local pharmacist is in the best position to inform, educate and treat a traveler.
What's Missing?  Pharmacists are smart and have access to travel specific medications and vaccines yet without proper training and a program - it's difficult for the pharmacist to offer expert travel health services. TravelCare offers training and software that allows the pharmacist to offer Expert Travel Health Services. See the demo.
The Benefits - There are two great benefits of offering Travel Health Services. First, each international traveler is worth $400 in incremental revenue to your pharmacy!  Routine and Travel Vaccines, Prescriptions Drugs, Over the Counter Drugs, and in-store purchases add up when traveling overseas. We can show you how this works. Second, offering expert travel health services provides a "value-added" service to bring in new customers and retain the customers you have.
Get Ahead of the Curve - Transitioning from flu shots to routine and travel vaccines is not that difficult when the pharmacist and assistants are properly trained and have systems for delivering expert information.  TravelCare offers a combined software and Certification training program specifically for pharmacists.
Our Software Platform - TravelCare is an out of the box solution for pharmacists.  Our web-based program provides everything you need to generate expert reports for any destination in the world.   Reports are customizable and include disease, endemic illnesses, prevention and recommendations for routine and travel vaccines, prescriptions and over the counter medications.   TravelCare provides everything you need to offer travel medicine services.See the demo.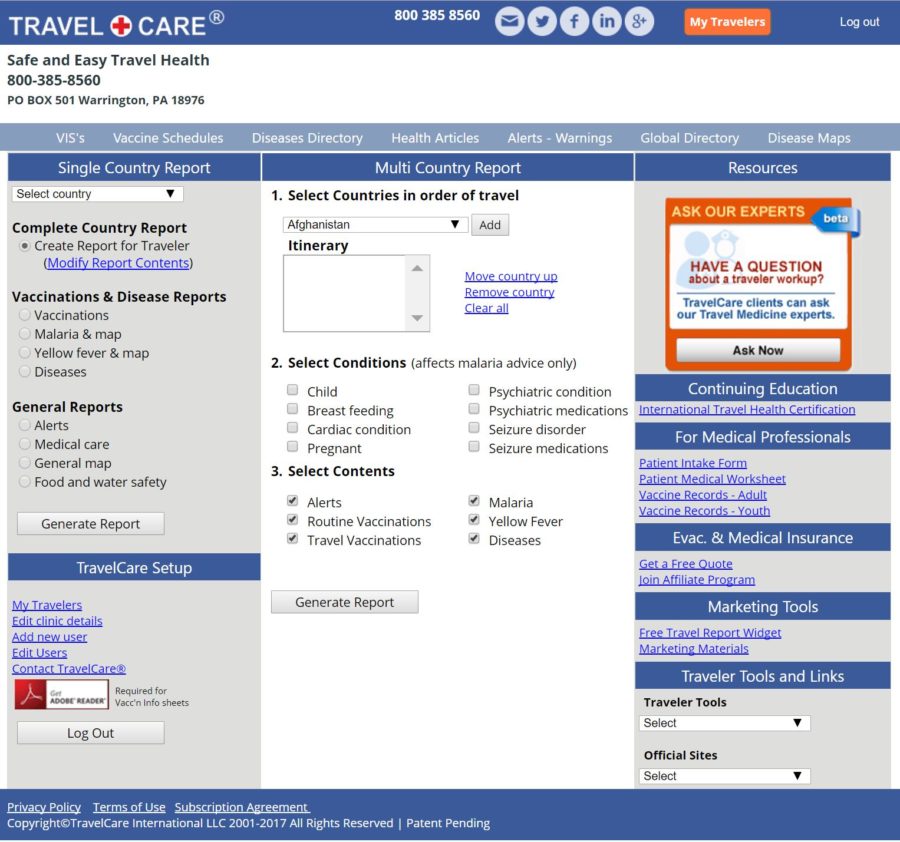 What's included in the Travel Medicine Platform?  Our web-based software allows for users to login from any web browser and generate on demand medical travel reports for any destination worldwide.  Our reports include comprehensive medical recommendations, safety and security information on over 260 destinations. We offer single and multi-country itinerary  reports and each report can be customized to your needs.  A comprehensive suite of resources for vaccines, disease, prevention, world maps, etc. is included. There is no product on the market today that provides better and more current travel medicine data exclusively for Pharmacists.
Daily Updated Medical, Safety and Security Reports
Single country and multi-country itineraries
Coverage of over 200 destinations
Complete Endemic Disease, Illness, Treatment and Prevention Resources
Expert Recommendations on Routine and Travel Vaccinations, Prescriptions, OTC
Country Guides
2nd Opinion Service